Design pattern, apa sih itu? dalam kontek software engineering design pattern merupakan sebuah cara yang disepakati bersama oleh banyak orang sebagai cara terbaik tentang bagaimana  programmer bekerja dalam menyelesaikan masalah-masalah yang umumnya timbul ketika merancang aplikasi maupun sistem.
Design pattern, mengapa sih harus diikuti? ada banyak cara untuk men-struktur kode dalam sebuah project, dan kita dapat meletakkan arsitektur sesuka kita. Namun, mengikuti standard pola / pattern yang sudah banyak digunakan adalah sebuah hal yang baik. Karena hal tersebut akan membuat aplikasi dan kode yang kita buat mudah untuk dibaca, dipahami hingga dikembangkan oleh orang lain.
Selain memudahkan orang lain maupun diri sendiri dalam memahami perkerjaan kita, mengikuti design pattern yang telah ada merupakan suatu cara yang dapat ditempuh untuk memastikan bahwa aplikasi yang kita buat dikembangkan dengan paradigma yang telah teruji sehingga mengurangi waktu yang terbuang dalam melakukan trial and error.
Konsekwensi yang kita terima saat menggunakan paradigma atau design pattern yang tidak umum atau hasil buatan kita sendiri adalah saat kita stuck, mentok pada suatu kasus, dalam kondisi ini maka kita akan kesulitan dalam mencari jawaban dari orang lain karena paradigma yang kita gunakan tidak lazim, bilapun bertanya maka biasanya orang-orang malah akan menasehati kita untuk kembali menggunakan cara yang telah disepakati.
Sebagai developer tugas kita adalah menyelesaikan berbagai macam masalah. Banyak masalah yang kita hadapi sebenarnya sudah diselesaikan oleh orang lain dari sejak lama dengan solusi yang teruji dan dikembangkan bertahun-tahun, maka, untuk apa kita harus menyelesaikan masalah-masalah itu lagi?
Sebelum kita lanjutkan, kita harus pahami bersama bahwa tidak ada istilah cara paling baik, paling keren dll. kita harus bijak menentukan mana cara, paradigma yang sesuai dengan masalah yang ingin kita selesaikan.
Mari kita mulai!
Singleton pattern berguna saat kita perlu memastikan bahwa kita hanya memiliki satu instance dari class untuk seluruh siklus hidup aplikasi. Hal ini biasanya terjadi ketika kita memiliki objek global seperti konfigurasi misalnya.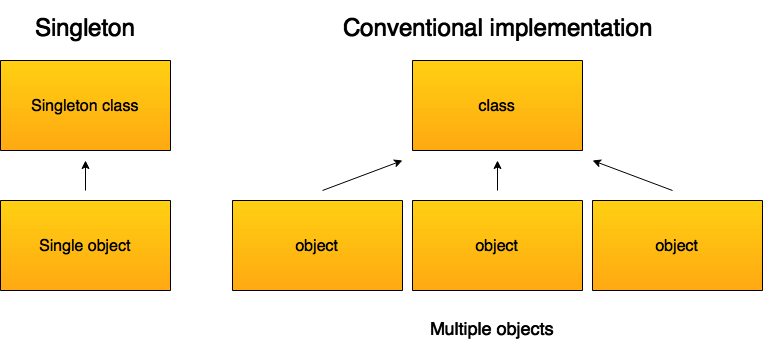 Factory Pattern secara sederhana  adalah proses membuat instance dari class dengan cara memanggil factory method tanpa melakukan instantiate secara langsung diberbagai tempat yang membutuhkan instance dari sebuah class.
Ada 2 kelebihan dalam membangun kode dengan cara seperti ini;
Jika nanti kita ingin mengubah atau mengganti class kita dapat melakukannya dengan mudah hanya dengan cara mengubah class Factory, bukannya dengan mengganti semua kode yang tersebar untuk membuat object.
Kelebihan kedua, jika membuat instance object tersebut sangat rumit, kita dapat melakukan pekerjaan rumit tersebut di dalam class factory, bukannya mengulang-ulang pekerjaan tersebut di setiap tempat.

Sumber disini.
Sebelumnya pahami dulu contoh interface berikut juga bagaimana parameter sebuah function bisa diinisialisasi dengan tipe interface.
Fokus pada $apa->setHewan($gogok); fungsi ini di deklarasikan dengan  function setHewan(HewanInterface $hewan) tapi kita beri object $gogok kemudian.
Sudah paham interface diatas? maka lanjut ke sini:
Dengan strategy pattern, anda membungkus algoritma sejenis sehingga membuat class client bertanggung jawab untuk membuat instance dari sebuah algoritma spesifik tanpa perlu tahu implementasi sesungguhnya. Ada beberapa variasi strategy pattern, salah satunya yang paling simpel yaitu:
Kode pertama menunjukkan keluarga algoritma; untuk serialize array, json, atau array of data:
Dengan membungkus algoritma di atas Anda membuat itu bagus dan jelas dalam kode Anda bahwa pengembang lain dapat dengan mudah menambahkan jenis keluaran baru tanpa mempengaruhi kode klien.
Anda akan melihat bagaimana masing-masing 'output' konkret class mengimplementasikan OutputInterface – ini melayani dua tujuan, terutama itu memberikan kontrak sederhana yang harus dipatuhi oleh setiap implementasi beton baru. Kedua dengan menerapkan umum antarmuka Anda akan melihat di bagian berikutnya bahwa sekarang Anda dapat memanfaatkan [Type Hinting] (http://php.net/manual/en/language.oop5.typehinting.php) untuk memastikan bahwa klien yang memanfaatkan perilaku ini adalah jenis yang tepat dalam kasus ini 'OutputInterface'.
Potongan kode yang berikutnya menguraikan bagaimana kelas client memanggil mungkin menggunakan salah satu algoritma ini dan bahkan lebih baik mengatur perilaku yang diperlukan pada saat runtime:
Implementasi diatas manjadi: